Do you know who is Dana White? He is an American businessman and entrepreneur who revolutionized combat sports. He is the man behind the growth and success of UFC. His fortune was estimated at $500 million in 2023.
In this blog, we describe who he is and tell you all that there is to know about him – from his childhood roots to his professional accomplishments as well as leading up to where he stands today as CEO of the UFC.
So get ready, as here's everything you need to know about Dana White!
Content Highlights
Dana White is the President and CEO of the Ultimate Fighting Championship (UFC).
He had a middle-class upbringing in Las Vegas and dropped out of college twice before trying his luck at managing fighters.
Under White's leadership, UFC has experienced unprecedented success, with an estimated worldwide reach of 1 billion viewers since its inception.
In addition to leading MMA from its underground roots to mainstream acceptance, he actively campaigns for health and fairness among fans & athletes with safe guidelines now governing competitions internationally.
Who Is Dana White? A Brief Introduction
Dana White is the current CEO of the Ultimate Fighting Championship (UFC). He was born in 1969 in Manchester, Connecticut, and grew up in Las Vegas, Nevada.
| | |
| --- | --- |
| Full Name | Dana Frederick White, Jr. |
| Social Name (Known as) | Dana White |
| Date of Birth | July 28, 1969 |
| Place of Birth | Manchester, Connecticut, United States |
| Nationality | American |
| Religion | Catholic |
| Height | 5'10 ¼" (1.7844 m or 178.435 cm) |
| Age | 54 years (as of November 1, 2023) |
| Net Worth | $500 million (estimated) |
| Interests | Mixed martial arts, boxing, football, golf |
| Current Living Place | Las Vegas, Nevada, United States |
Table: Biography of Dana White
In his youth, White was an amateur boxer and opened boxing gyms that incorporated aerobics. In 1995, White reconnected with high school friend Lorenzo Fertitta and told him about the emerging sport of mixed martial arts (MMA).
In 2001, the Fertitta brothers bought the Ultimate Fighting Championship (UFC) for $2 million and made White the president. White helped the UFC grow in popularity through the reality show The Ultimate Fighter in 2005. His aggressive personality and outspoken comments about fighters and rivals drew attention.
In 2011, the UFC bought rival promotion Strikeforce. In 2012, White changed his stance and allowed women's MMA in the UFC, highlighted by Ronda Rousey.
In 2016, White retained his role as president when WME-IMG purchased the UFC from the Fertittas for $4 billion. Throughout his UFC career, White has been criticized for his treatment of media and banning of sponsors but has succeeded in growing MMA into a hugely popular sport.
Early Life and Education
Dana White was born in Manchester, Connecticut, United States, and raised in Las Vegas, Nevada. His father was a boxing promoter, and his mother was an aesthetician. He attended Bishop Gorman High School, where he developed an interest in boxing.
After graduating from high school, he became involved in the fight business alongside his father managing local fighters.
Childhood and Upbringing
Growing up in Las Vegas, Nevada, Dana White had a middle-class upbringing. Raised by his mother and family, he was one of two children to his parents. White's mother was a nurse who continued her career after moving the family to Las Vegas when White was in third grade.
After settling there, he attended Bishop Gorman High School, where his academic record showed an overall above-average performance.
After graduating at 18 years old, however, White's educational journey did not carry on, given two unsuccessful attempts at college before leaving during his first semester each time – choosing instead to focus on business opportunities that were soon unveiled thanks to childhood friend Lorenzo Fertitta.
Education and Career Choices
Dana White had a difficult childhood and upbringing, but he graduated from Bishop Gorman High School in Las Vegas and attempted to attend college twice. However, both times, during the first semester of his education, he eventually dropped out.
With limited options after dropping out of college, White started working various jobs, including as a boxercise instructor. He worked hard to make ends meet by also laying asphalt and serving as a bouncer at an Irish bar before trying his luck in the fight business under the tutelage of famous professional boxer Don King.
After gaining enough expertise from Don King's boxing camps and gyms, Dana decided that boxing was too dangerous for him, opting instead towards Mixed Martial Arts (MMA), subsequently with fruitful investments from friends 100% acquired Ultimate Fighting Championship (UFC).
Professional Career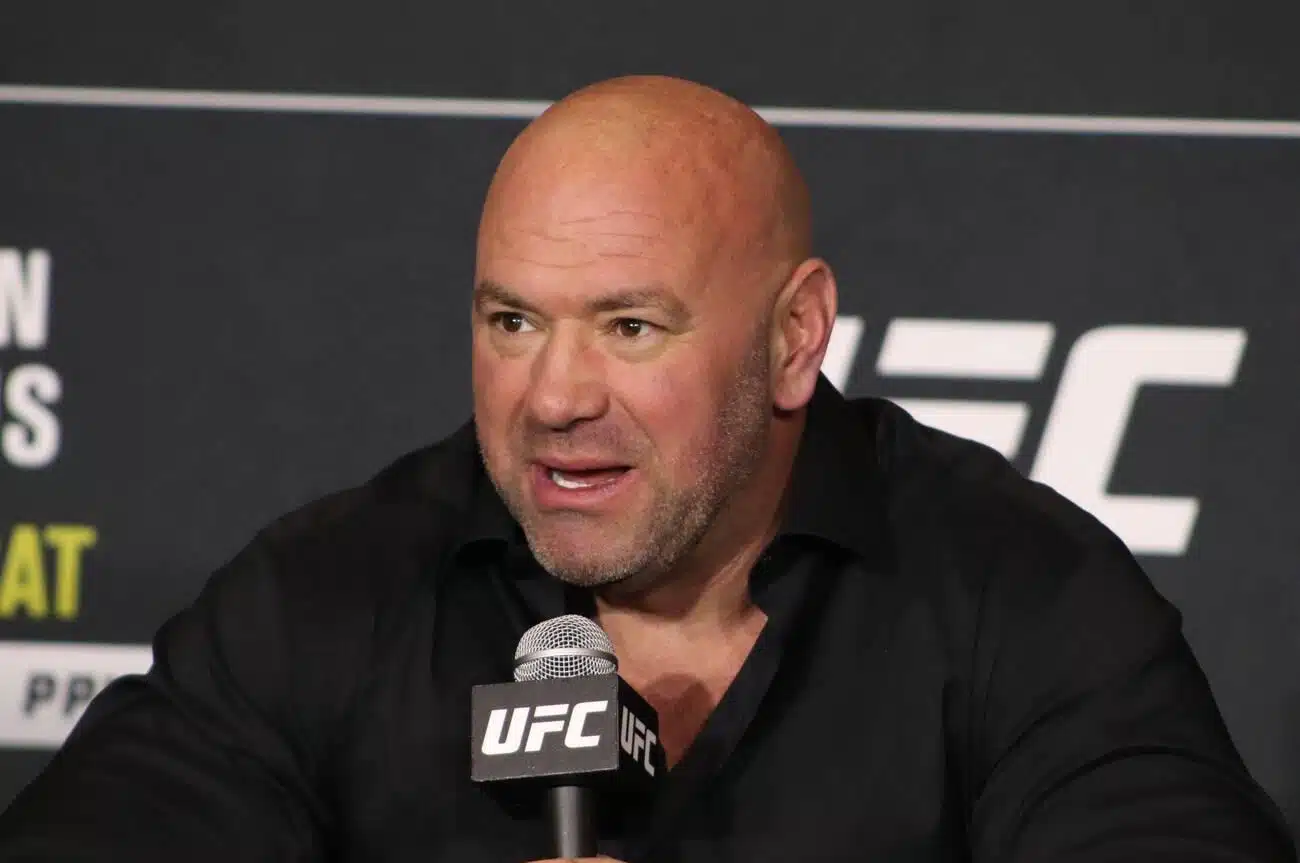 Dana White has been the President of the Ultimate Fighting Championship (UFC) since 2001. He helped grow the UFC from a struggling promotion to a multi-billion dollar global enterprise and played a major role in popularizing mixed martial arts (MMA).
Some key accomplishments include getting the UFC on cable television in 2005 through the reality show The Ultimate Fighter, expanding the UFC internationally, incorporating women's MMA in 2012, and selling the UFC for $4 billion in 2016.
White has won the World MMA Awards Promoter of the Year award for 15 consecutive years from 2005 to 2022 for his work promoting the sport. Despite controversies, White is widely credited as one of the most influential people in building MMA into a mainstream sport.
Career in the Fight Business
Dana White entered the world of boxing in 2001 and acquired the Ultimate Fighting Championship (UFC) corporation the same year, gradually building its success and growth over the subsequent years.
Entry into the World of Boxing
Dana White initially had plans to pursue a professional boxing career. In pursuit of his dream, the future UFC President even attended various gyms in South Boston and trained for several months under "Irish" Griffin.
It was evident to those around him that Dana was dedicated to succeeding as a boxer, and many expected him to succeed in the ring. However, it wasn't meant to be; during one of Dana's frequent visits to a local gym, he met punch-drunk boxer Dave Michon who acted out bizarre behaviors that caused White immense concern about his own health if he ever succeeded in boxing.
As this happened, Dana abruptly decided against pursuing a career as a professional fighter and ultimately left the sport forever at age 18, when most fighters would still be establishing themselves on top prospects' lists.
Acquisition of UFC
Dana White is credited for transforming the Ultimate Fighting Championship (UFC), a sports organization founded in 1993, into the multi-million enterprise it is today. In 2001, White partnered with casino mogul Lorenzo Fertitta to purchase UFC from its then-owner Semaphore Entertainment Group.
With his involvement in UFC ownership and operations, as well as strategic moves such as appointing leading pay-per-view television distributor Zuffa LLC to negotiate broadcasting deals, Dana has achieved great success in making UFC one of the most successful Mixed Martial Arts organizations ever created.
Under this new administration produced by Lorenzo Fertitta and DanaWhite, the UFC grew from just 12 events annually to more than three times that in 2017 alone and an estimated 4 billion dollars worldwide gross revenue per year since its purchases by Fertitta & White.
This surge of popularity has been followed by considerable international expansion, including Europe's first event being held at Manchester Arena UK in 2007; The promotion markets itself on PPV platforms around the world among other broadcasts mediums such as YouTube Live or ESPN+.
You can find more details here on Dana White's UFC buying date.
Success and Growth of UFC
Under Dana White's leadership, the UFC has experienced unprecedented success and growth. Initially established in 1993, the UFC saw a gradual increase in popularity over the years.
However, it was only after White took control of the promotion that its fortunes began to change drastically. By 2006, under White's guidance and business acumen, the company was generating millions in pay-per-view revenue each year and ranking among one of America's fastest-growing companies.
In 2016 alone, 25 million people watched UFC events, with a total television audience of 1 billion viewers worldwide since its inception, according to Nielsen Research Statistics estimates from 1985 to 2014.
Impact on The MMA  Sport
Dana White has been a driving force behind the growth and success of mixed martial arts in recent years. Under his leadership, the UFC has gone from a fringe sport to a multimillion-dollar enterprise with events broadcast across the globe.
White was instrumental in ushering in rules and regulations that have made MMA more professional and easier for fans to understand. He also played a key role in creating UFC lightweight divisions, crowning its first champion, encouraging athlete development, and allowing athletes from other disciplines, such as Muay Thai or boxing, to enter into MMA competitions.
White continues to be deeply involved in big fight promotions like those involving Floyd Mayweather Jr., Conor McGregor, and Anderson Silva, among others – helping make them some of the most lucrative battles ever held at this level of combat sports entertainment.
His efforts have also encouraged other promoters like Mark Cuban's Professional Fighter League (PFL) or ESPN+, launched earlier this year to air exclusive bouts. In addition, White has expressed an interest in putting together bouts between boxers and mixed martial artists, something which would open up another fascinating chapter in modern competitive fighting sports if it becomes realized on any significant scale.
Role in Fighter Development
Dana White has made a significant impact on the success of UFC fighters. As the CEO and president of the UFC, he plays a vital role in finding, signing, and promoting new talent within the organization. He actively searches for emerging fighters both in the United States and around the world to create exciting matchups that fans love.
White also handles contract negotiations for each fighter on his team, ensuring they are fairly compensated for their fights. He also collaborates with sponsors like Reebok and Monster Energy Drink to provide additional incentives and rewards beyond money. Additionally, he's directly involved in deciding which fighters compete against each other in matches.
Over his two-decade tenure at the helm of the MMA's largest promotion organization, Dana White has played a significant role in bringing some of the most memorable fights in the sport's history.
These include moments like Cain Velasquez's victory over Brock Lesnar for the heavyweight title at UFC 121 and Jon Jones' impressive Light Heavyweight defense against Thiago Santos during the 2018 International Fight Week. These events feature championship bouts and showcase the best fighters the company has to offer, entertaining millions of fans worldwide via PPV broadcasts.
Role in Legalizing MMA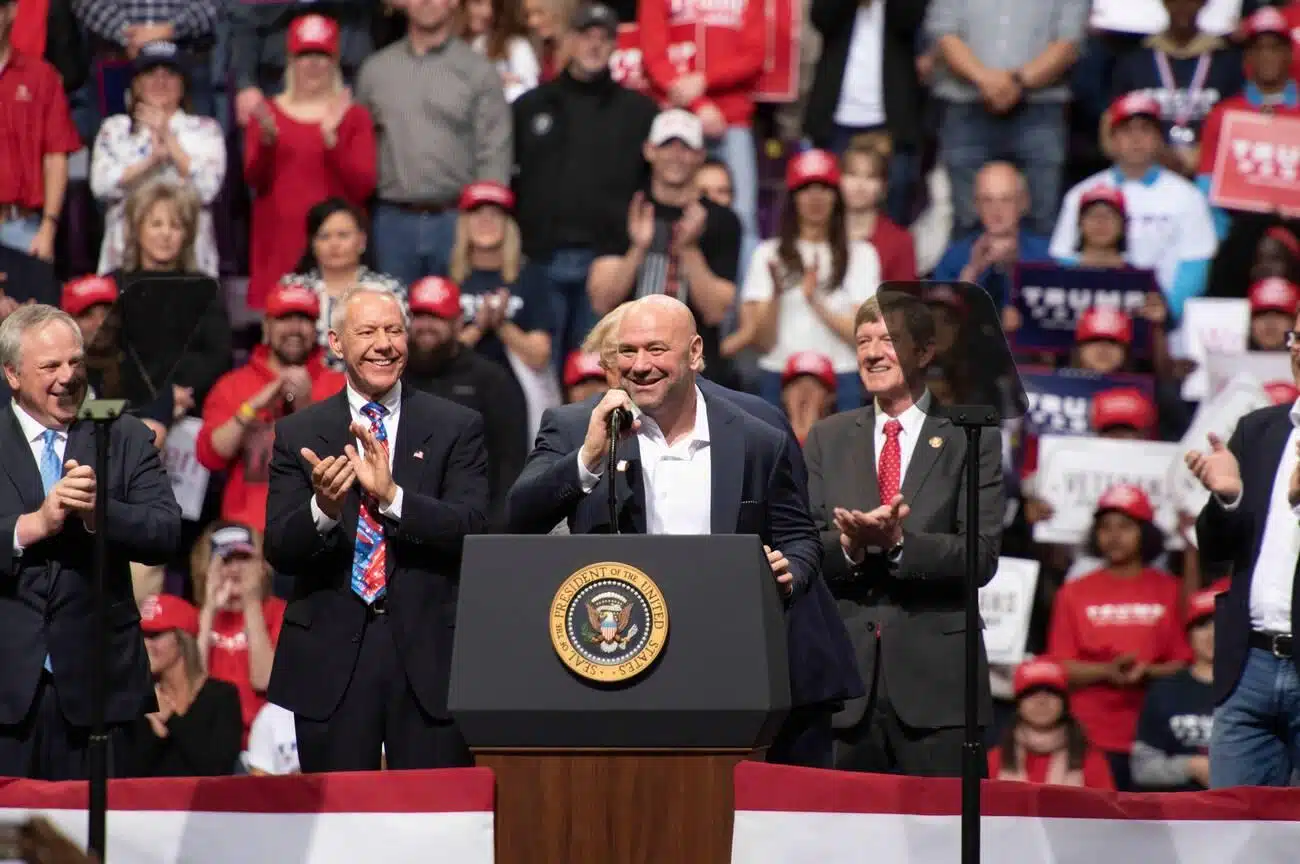 Dana White was pivotal in elevating Mixed Martial Arts (MMA) from underground to mainstream recognition. He brokered a crucial deal with Zuffa, LLC, transforming the UFC into a legitimate sports league.
Under White's leadership, MMA gained acceptance through professional athletic development organizations like the Athletic Commission. However, he didn't stop at legitimizing the sport; he actively promoted its popularity among fans and athletes. White became a prominent face in the MMA world, ensuring that health and fairness regulations were upheld.
He notably reintroduced weight class divisions that had been eliminated by other promotions, including the creation of the lightweight division, offering lighter competitors more opportunities.
White's efforts also led to international recognition as he lobbied governments globally, expanding MMA's reach to non-traditional participant countries. This expansion opened doors for copromotions, such as the Floyd Mayweather Jr. vs. McGregor fight, and a broader international audience. Ultimately, it paved the way for international competitions that welcomed fighters from various countries.
Priorities for The UFC's Future
Dana White has been a driving force in the evolution of Mixed Martial Arts (MMA). His vision for the UFC's future is to expand domestic and international audiences, create opportunities that boost fighter pay and incentives, adopt cutting-edge technology to understand fight performance trends better and improve fan engagement with an innovative digital experience.
White recently announced his plans for the international expansion of events into APAC countries starting in 2021. The company also wants to invest in Artificial Intelligence(AI) technologies such as machine learning engines via a partnership with tech giant IBM to gain insights on what makes fighters successful in the octagon – this will help coaches analyze their athlete techniques which can lend itself to more efficient coaching practices and fighter development goals.
Additionally, Dana White has promised greater monetization opportunities for athletes through new licensing deals with sporting goods manufacturers like Adidas or Reebok. Lastly, White seeks ways to innovate fan engagement – he is exploring VR fighting experiences that could be used within pubs and amusement arcades worldwide, enhancing viewing options for fans by letting them watch competitions from wherever they are located around the globe!
Dana White's Personal Life
Dana White has been married to his wife Anne since 1996, and together, they have three children. White values his family life greatly, even with his hectic career running the UFC.
Dana White's Family
Dana White was born to parents Dana Frederick White Sr. and June White. He has one sister named Kelly White. White married Anne Stella in 1996. Together they have a daughter named Savannah and two sons, Dana White III and Aidan.
White's daughter Savannah is currently pursuing her education while being kept mostly out of the public eye. His oldest son Dana III played football at the University of San Diego. White's youngest son Aidan is an amateur boxer who has also trained in Muay Thai and Jiu-Jitsu. White wants his kids to pursue their passions. He has emphasized that he cares most about his children being proud of him as a father. White has thrown large birthday parties for his kids over the years.
Health Issues
In 2018, Dana White was diagnosed with a rare inner ear disorder known as Ménière's disease. This condition causes severe dizziness and vertigo attacks, hearing loss, ringing in one or both ears (tinnitus), swelling, and pressure in the ear affected by the disorder.
To combat this debilitating illness, he sought out stem cell treatment to help fight off his symptoms. Surprisingly it worked, and while there were no guarantees for recovery from his physician, he claims that this method has cured him of all his issues related to Ménière's disease.
White has spoken before on how significant an impact this diagnosis had on his life, pointing out that due to a life expectancy alarmingly low at 35% over 10 years for people with serious forms of the disease, he felt compelled to make every day count and take control of critical decisions both professionally and personally sooner rather than later so as not to run out of time.
Love for Music
Dana White has a great love for music. The UFC President is often seen attending concerts, from classic rock bands like Black Sabbath to new artists rising in the charts, such as X Ambassadors and Imagine Dragons.
His favorite band is The Killers, and his MMA sponsorships also include several top-name musical acts such as Pentatonix, Gucci Mane, and Ice Cube. He often comments that supporting live shows helps him destress from life's demanding situations.
Furthermore, Dana White has occasionally dipped into the world of music himself by partnering with Paul Heyman on "Lip Sync Battles" or even appearing on stage alongside Wu-Tang Clan during fight events.
In December 2020, he released a single titled '101' with singer Marquel Maxwell which was supported by lyrics sprinkled in between interviews with headline stars such as Conor McGregor and Khabib Nurmagomedov.
Philanthropy
Dana White has a strong passion for giving back to the community. He has made substantial donations to charities and causes he believes in, including a $100,000 donation to fix up the Hermon athletic complex in his hometown of Las Vegas.
It was reported that he personally took part in helping with the project as well. Apart from this philanthropic effort, White has also given millions to various charitable organizations such as The James R Hunt Cancer Fundraiser and Boston Children's Hospital, among other initiatives.
As per reports, he had donated an impressive amount of $1 million towards the construction of Vegas' brain health center, which provides medical care for veterans suffering from brain injuries or PTSD due to their service in wars while serving for America.
Controversies and Contention
[Video Credits @MMA On Point]
Dana White has been involved in controversies, including a lawsuit filed against him for releasing an unauthorized sex tape of former professional fighter and co-owner of the UFC, Tito Ortiz.
He also gained attention when he had physical altercations with his wife during their relationship, as well as rumors about his online gambling habits. Though his passionate speeches have kept some fans loyal, many fighters have criticized White's micromanaging role in developing future champions.
Lawsuit Over Sex Tape
The controversy began when a sex tape involving White and an unnamed woman was released online by the website TMZ in December 2018. Although the video had been taken without either person's permission one year prior, there were further legal complications due to claims that White had blackmailed his partner into staying in a relationship with him by threatening to release the material.
After this situation became public, both parties settled out of court. Due to nondisclosure agreements, few details emerged about the resolution other than that it included 'monetary relief' for White's partner.
Of course, as well as causing embarrassment for Dana white personally, this unfortunate legal issue also caused damage to his reputation within the professional fighting world and cast doubt over his future prospects in UFC promotion.
Altercations With His Wife
During a New Year's Eve gathering in 2022 at a nightclub in Cabo San Lucas, Mexico, Dana White and his wife Anne were captured on video engaged in a heated argument that escalated into a physical altercation.
The footage showed Anne slapping White, and in response, White slapped her back. Both individuals acknowledged and expressed remorse for their actions, attributing it to the excessive consumption of alcohol during the event.
Notably, the UFC, the organization White is associated with, did not issue a public response or address White's behavior following the incident. However, the situation prompted the California Legislative Women's Caucus to take action. They penned a letter addressed to Ari Emanuel, the CEO of Endeavor, the parent company of the UFC, urging White's dismissal.
The letter carried the signatures of California State Senator Nancy Skinner and California State Representative Cecilia Aguiar-Curry, indicating a call for accountability and action in the aftermath of this incident.
Gambling Habits
Dana White has never been shy about his recreational gambling, especially blackjack. He used to frequent the Palms Casino in Las Vegas, and it was believed that during one of these nights, he lost a million dollars.
These instances led the casino management to order him to cut back on his wagering activities at their establishment.
White's penchant for high-stakes gambling has made headlines and sparked suspicion amongst fans, which caused considerable contention on more than one occasion. One particular incident occurred when a sex tape titled "Welcome To The World Of Dana White" leaked online; its investigation revealed a shady connection with an unnamed gambler who placed bets through White's account without authorization or knowledge of what they were betting on.
In addition, there have also been rumors about whether White uses inside information from fighters while making bets at gaming establishments – another frequented allegation that hasn't yet been proven true or false due to a lack of concrete evidence either way.
Some Other Facts About Dana White
Dana White's journey with the UFC has seen him receive various accolades and grow the sport's popularity exponentially. Here are some other interesting facts about the successful entrepreneur and face of the UFC.
Dana White's Awards and Recognition
Dana White has made an indelible mark on the UFC and the world of MMA. He has been honored for his contributions to the sport with various awards over the years, including receiving a Patriot Award from the Armed Forces Foundation in 2016.
The same year, he was also named Leading Man of The Year at the World MMA Awards. Not one to forget his roots, White donated $1 million towards developing a brain health center in Las Vegas – which was opened in 2019.
As a result of White's exemplary business acumen, lucrative Television deals could be won for UFC and securing premier sponsorships both domestically and internationally.
White's efforts have also seen him contributing heavily towards legalizing MMA across different states while concurrently transforming public opinion about it being just an underground violent sport to something that average or casual viewing audiences could consume along with passionate fans alike.
Being involved both hands-on operationally but also playing the perfect host during many management-level negotiations and product development discussions with major TV networks such as Fox/Disney have enabled UFC to reach millions of viewers via DVRs and connected Devices around the World, incentivizing global independencies more than before making it a realistic goal to achieve revenues expected initially from traditional channels like PPVs (Pay Per Views).
Dana White's Net Worth
White is estimated to have a net worth of $500 million as of November 2023. This figure represents the culmination of his career success in the fight business, which has seen him acquire and grow UFC into one of the most successful organizations in North America.
Since taking over ownership from its original founders, SEG, in 2001, UFC's gross revenue rose exponentially to an astonishing amount of $600 million by 2015. The financial success was solidified when White and other stakeholders like Frank Fertitta III sold Zuffa LLC (parent company for UFC) to a private consortium led by WME – IMG for approximately 4 billion USD, with 9% of that held by White himself.
In addition to this major sale, Dana signed another seven-year contract with UFC, despite his pushing seventy years old, along with a long-term partnership deal between ESPN and UFC, thus increasing his fortune even further.
Wrapping Up
Dana White has had a remarkable impact not only on the UFC but on the entire sport of MMA. From humble beginnings as a boxercise instructor to leading one of the most iconic sports brands in history, White's success is undeniable.
He spearheaded the legalization of mixed martial arts and has enjoyed tremendous success as president and CEO of the UFC. He has led numerous successful pay-per-view events and made sure that fighters under his wing get their due share.
His vision for the sport is clear: create an entertaining product that engages fans around the world while maintaining fairness and respect towards those who participate in it. Such dedication to his craft saw him receive several awards, the Sports Executive of The Year Award from GQ magazine, and induction into the International Boxing Hall Of Fame in 2019.
Many people doubt Dana's tactics at times but agree on one point – You simply cannot ignore 'the face' behind this highly successful global enterprise today – necessity indeed gave birth to a true entrepreneur: Mr Dana White!
Subscribe to Our Latest Newsletter
To Read Our Exclusive Content, Sign up Now.
$5/Monthly, $50/Yearly