Unlock the Editor's Digest for free
Roula Khalaf, Editor of the FT, selects her favourite stories in this weekly newsletter.
Rishi Sunak stunned Westminster on Monday by restoring David Cameron to the political frontline as foreign secretary, in a dramatic cabinet reshuffle that included the sacking of controversial home secretary Suella Braverman.
The moderate James Cleverly, who was foreign secretary, replaced Braverman at the Home Office in a shift by the UK prime minister towards the centre ground that alarmed some on the right of the Conservative party.
Sunak faces a clash with hardline colleagues on Wednesday when the Supreme Court rules on Braverman's plan to send asylum seekers to Rwanda. If it is deemed unlawful, she is expected to renew her calls for Britain to quit the European Convention on Human Rights.
Braverman said: "It has been the greatest privilege of my life to serve as home secretary. I will have more to say in due course."
Dame Andrea Jenkyns, a right-wing backbench Tory MP, said she had submitted a letter of no confidence in Sunak to party grandees. "It is time for Rishi Sunak to go and replace him with a 'real' Conservative party leader," she added.
Main reshuffle moves
Home secretary: James Cleverly replaces Suella Braverman

Foreign secretary: David Cameron fills vacancy left by Cleverly 

Environment secretary: Steve Barclay takes over from Thérèse Coffey

Health secretary: Victoria Atkins fills vacancy left by Barclay

Party chair: Richard Holden replaces Greg Hands
With the Conservatives trailing Labour by more than 20 percentage points in opinion polls, the reshuffle represents Sunak's last throw of the dice in building a team ahead of the next election.
The biggest surprise came when Cameron, who has played virtually no political role since quitting as prime minister after the 2016 Brexit referendum, was handed the job of foreign secretary.
Sunak used his Tory party conference speech last month to promise to be the "change" prime minister; now he has turned to his centrist predecessor for help.
The move of the emollient Cleverly to the Home Office and the restoration of Cameron, a classic Home Counties Tory, suggests Sunak has decided to present a less abrasive face to the public. The new foreign secretary will become a life peer.
Cameron, prime minister between 2010 and 2016, will face a series of immediate challenges in his new government role, including the war in Ukraine and the Israel-Hamas conflict.
He said his commitment to public service was the motivating factor behind taking on the position, and his six years as prime minister and 11 years as Tory leader had armed him with "useful experience and contacts and relationships and knowledge".
Cameron was approached about the role on Wednesday last week, according to two people briefed on the appointment.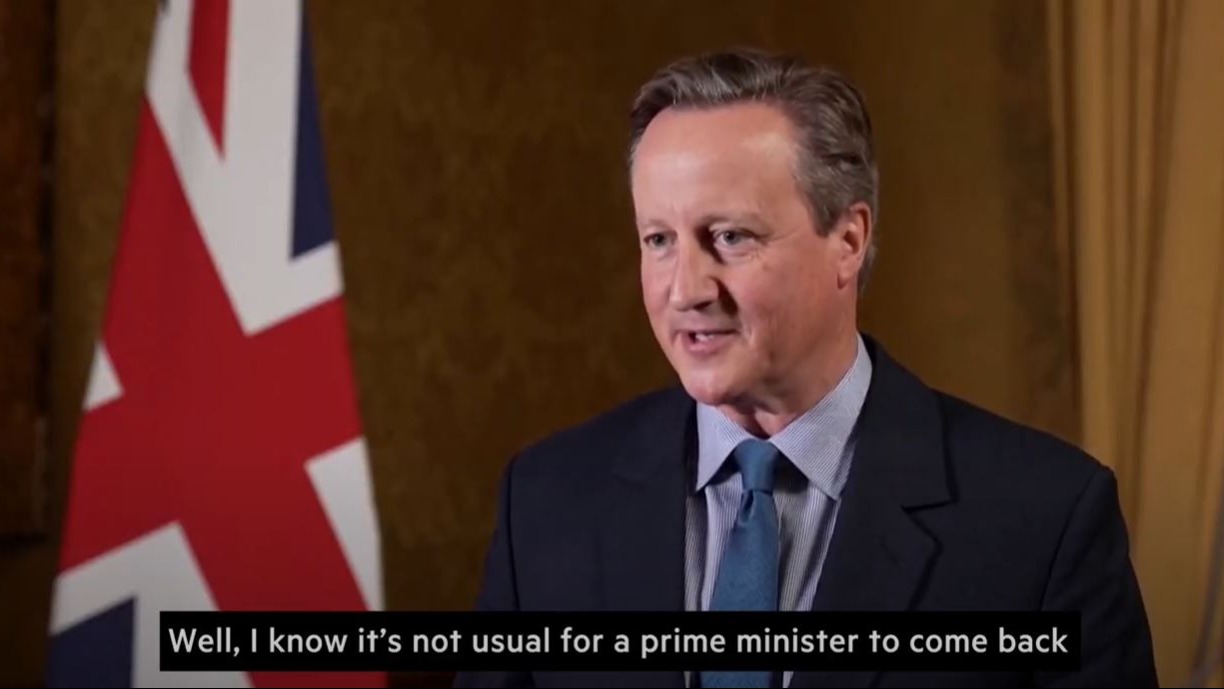 Cameron, who recently criticised Sunak's decision to scrap the northern leg of the HS2 rail project, added that while he "disagreed with some individual decisions", Sunak was "showing exemplary leadership at a difficult time".
The former prime minister was recently at the centre of the biggest lobbying scandal in Britain for decades when the Financial Times revealed he had secretly pressed former colleagues in government on behalf of his employer Greensill Capital.
He also spent several years after leaving Downing Street trying to set up a $1bn UK-China investment fund, but by 2021 the project was mothballed amid worsening relations between Beijing and London.
Pat McFadden, Labour's campaign chief, said: "This puts to bed the prime minister's laughable claim to offer change from 13 years of Tory failure."
The reshuffle means no woman is serving in any of the top five jobs in government but Downing Street said Sunak "does not feel the need for tick box diversity".
Braverman's sacking has upset some rightwing Conservative MPs, but Sunak's allies believe the political fallout can be contained. "She hasn't got an army behind her," said one.
Braverman lost her government job after she wrote an article last week accusing the police of bias. Downing Street said it had not "been cleared". Braverman's allies on Sunday described Number 10 as "clowns".
The acrimonious nature of her departure suggests she may now mount a future Tory leadership bid from the backbenches, supported by members of the rightwing Common Sense Group of Conservative MPs.
Downing Street said there had been "differences of style" and language between Sunak and Braverman, adding: "Collective responsibility is a very important principle . . . It is important that senior ministers speak with one voice."
Number 10 portrayed the reshuffle as a chance to promote younger ministers and clear out some underperforming members of the cabinet ahead of an election expected next year.
"It's an opportunity for the prime minister to have a strong and united team," said Sunak's spokesperson.
The reshuffle included Victoria Atkins replacing Steve Barclay as health secretary. He was appointed environment secretary, replacing Thérèse Coffey after she resigned.
Atkins was previously financial secretary to the Treasury and has taken up her first cabinet post since being elected to the House of Commons in 2015.
Laura Trott, former pensions minister, replaced Atkins at the Treasury, while Richard Holden, who had been transport minister, was made Conservative party chair.
Sunak appointed rightwing Tory MP Esther McVey, a former pensions secretary, as minister without portfolio at the Cabinet Office.
Dubbed the "minister for common sense" by government insiders, McVey is expected to become the standard bearer tackling "woke" culture.