Barclays lowered shares of Ocado Group (LON:OCDO – Free Report) to an underweight rating in a research report report published on Monday, Marketbeat.com reports. They currently have GBX 430 ($5.25) price objective on the stock, down from their previous price objective of GBX 680 ($8.31).
A number of other equities research analysts also recently weighed in on OCDO. JPMorgan Chase & Co. lowered their target price on Ocado Group from GBX 450 ($5.50) to GBX 400 ($4.89) and set an underweight rating for the company in a report on Tuesday, June 20th. Shore Capital reiterated a not rated rating on shares of Ocado Group in a research report on Monday, July 24th. Three investment analysts have rated the stock with a sell rating, one has issued a hold rating and one has given a buy rating to the stock. According to MarketBeat, the company has a consensus rating of Hold and an average target price of GBX 600.20 ($7.33).
Get Our Latest Stock Report on Ocado Group
Ocado Group Stock Performance
OCDO stock opened at GBX 502.40 ($6.14) on Monday. The firm has a market cap of £4.16 billion, a PE ratio of -823.61 and a beta of 1.59. The company has a current ratio of 2.46, a quick ratio of 2.82 and a debt-to-equity ratio of 115.96. The stock has a 50-day moving average price of GBX 711.59 and a 200-day moving average price of GBX 604.18. Ocado Group has a 1-year low of GBX 342 ($4.18) and a 1-year high of GBX 1,017 ($12.42).
About Ocado Group
(Get Free Report)
Ocado Group plc operates as an online grocery retailer in the United Kingdom and internationally. It operates through three segments: Retail, UK Solutions & Logistics, and International Solutions. The company sells general merchandise and grocery products on its Ocado.com, as well as provides online retail solutions to corporate customers; and customer fulfillment center and logistics services.
Recommended Stories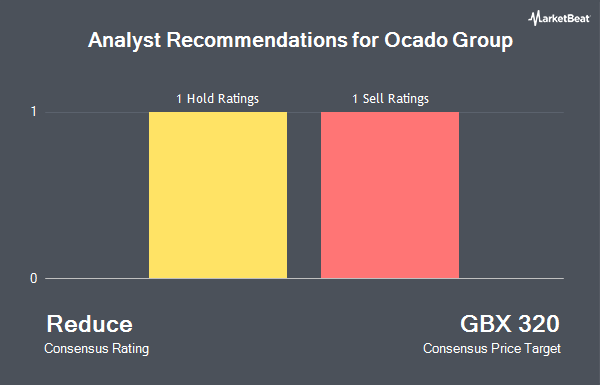 Receive News & Ratings for Ocado Group Daily – Enter your email address below to receive a concise daily summary of the latest news and analysts' ratings for Ocado Group and related companies with MarketBeat.com's FREE daily email newsletter.